CLEO SPOTLIGHTS LAW SCHOOL, ATTORNEYS, AND ACTIVISTS WITH VIRTUAL PROGRAM IN HONOR OF ITS 52ND ANNIVERSARY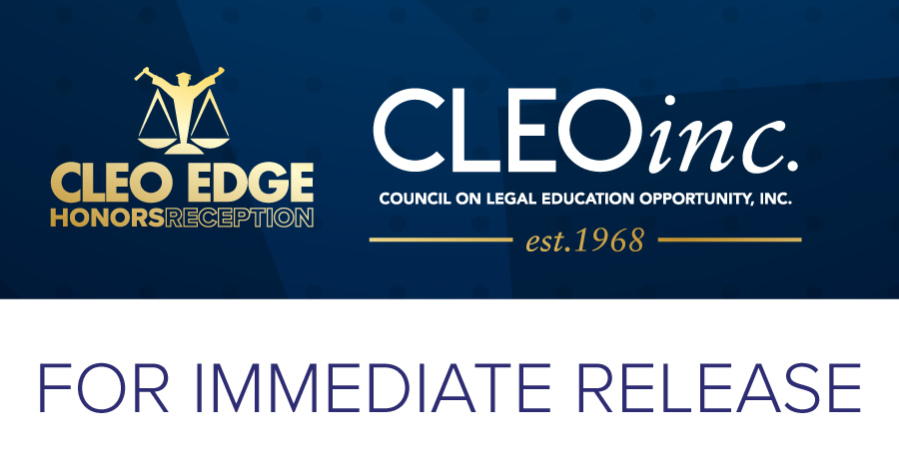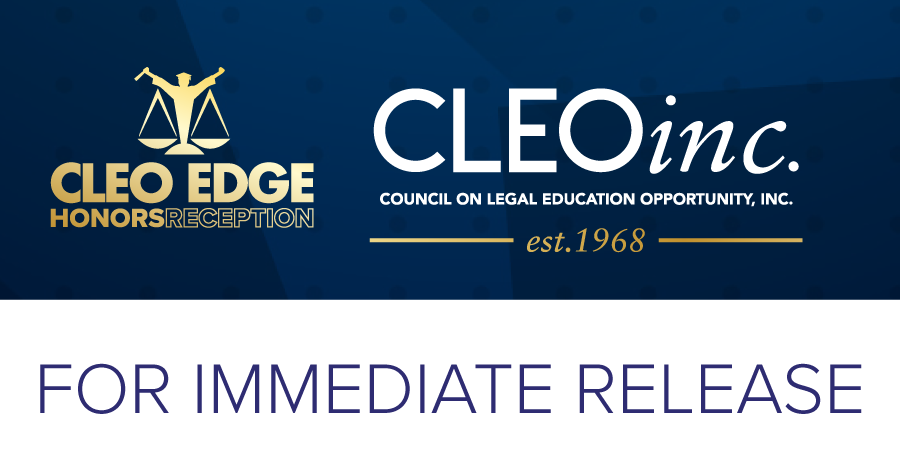 Stacey Y. Abrams, Penn State Dickinson Law, Barbara McQuade, and the Three Black Lives Matter Co-Founders Recognized during November 12th Virtual Awards Reception
Largo, MD – November 25, 2020 – In celebration of its 52nd anniversary, the Council on Legal Education Opportunity, Inc. (CLEO) recently hosted its CLEO EDGE Virtual Honors Reception, recognizing six outstanding leaders in Education, Diversity, and Greater Equality in the legal profession and throughout society.  With a welcome by retiring CEO Cassandra Sneed Ogden, the event included student testimonials, a review of the challenges and aspirations of 2020, and award presentations.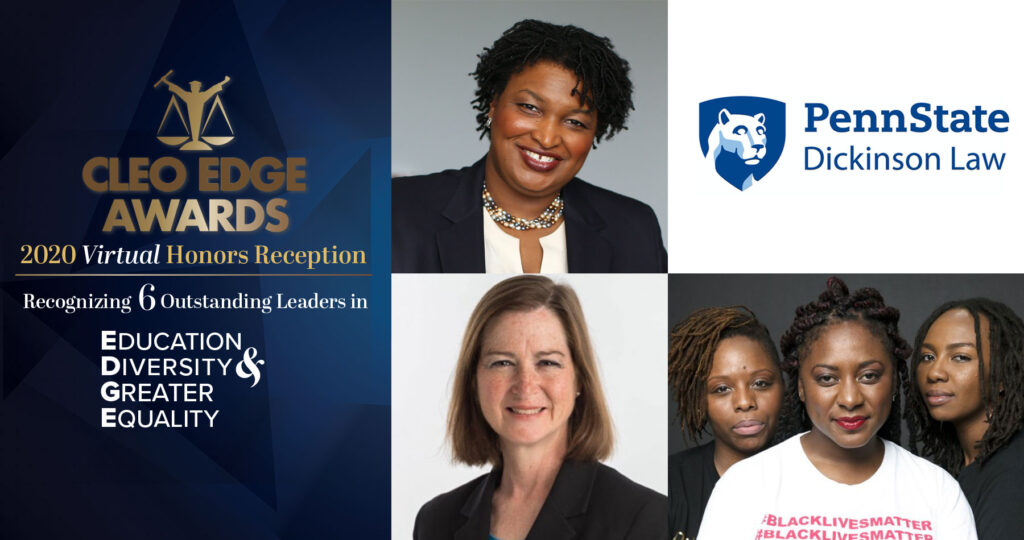 Our Award winners:  Penn State Dickinson Law received the CLEO EDGE Education Award.  Barbara McQuade received the CLEO EDGE Diversity Award.  And, Alicia Garza, Patrisse Cullors, and Opal Tometi received the CLEO EDGE Greater Equality Award. The video of the entire event is available at: https://cleoinc.org/edgeawards/reception/
The highlight of the reception was Stacey Y. Abrams who received the CLEO EDGE Vernon E. Jordan, Jr. Heritage Award.  She was introduced by the Honorable Sanford Bishop, 14-term Representative from Georgia (2nd District) and one of the first CLEO alumni.
Barbara Arnwine, CEO of Transformative Justice Coalition and 2018 CLEO EDGE Greater Equality recipient; Justin Cruz, Assistant Dean, Admission and Diversity Initiatives, Chapman University Dale E. Fowler School of Law, CLEO alumnus, and 2019 CLEO EDGE Diversity Award recipient; and Samantha Ahuja, Shareholder, Greenberg Traurig and CLEO Advisory Council member, also shared the podium.  Vickee Jordan Adams presented remarks on behalf of her father, Vernon E. Jordan, Jr.
"The incredible on-going work of this year's honorees and the especially timely accomplishments of Stacey Abrams underscore the critical role that CLEO plays in developing the attorneys that our increasingly diverse country needs now and in the future.  I am grateful for the commitment of our sponsors, benefactors, alumni, staff, Board and Advisory Council as we accept the responsibility captured in our motto:  Training Tomorrow's Lawyers; Preparing Tomorrow's Leaders," said Elizabeth Campbell, head of CLEO, Inc. Board.
Robin Nunn, Chair of the 2020 EDGE Honors Reception Committee added: "It was a joy to virtually gather in celebration of both CLEO's 52nd anniversary and the women and institutions that so boldly champion the causes of education, diversity, and greater equality, to which CLEO is entirely dedicated. As a result of everyone's contributions, despite being apart, the evening succeeded in bringing us together in support of these important issues."
Support for this event was provided by these generous sponsors:  ACC Foundation; AccessLex Institute; Akin Gump; Cleary Gottlieb; DePaul University Law School; DLA Piper; Freeborn & Peters; Georgia Black Women Attorney Association; Greenberg Traurig; Jackson Lewis; Law School Admission Council; Lincoln Financial Group; Maryland Legal Aid; Morgan Lewis; National Conference of Bar Examiners; Tong Tejani; VMware; and Womble Bond Dickinson.  The full list of our sponsors and benefactors is available at:  https://cleoinc.org/edgeawards/honorees/
About the Council on Legal Education Opportunity, Inc.
CLEO, Inc. is a 501(c)(3) charitable organization committed to diversifying the legal profession by expanding legal education opportunities for persons from traditionally under-represented racial and ethnic groups, low-income, and disadvantaged communities. Founded in 1968, when the number of lawyers of color was less than one percent, CLEO has since had more than 25,000 high school, college prelaw, and law students participate in its programs. CLEO alumni have excelled in every area of the legal profession to include judges, corporate attorneys, law school deans and professors, practitioners, politicians, and more.  More information about CLEO and its programs can be found at https://cleoinc.org/  To get information about CLEO's 52nd Anniversary, the 2020 or past CLEO EDGE honorees, visit:  https://cleoinc.org/edgeawards/honorees/
#     #     #
Media Contact
Bernetta J. Hayes, Director of Program Operations
240-582-8600, ext. 203