[CLICKS] My Voice Matters Virtual Social Justice Teen Town Hall
February 19, 2021

Posted by:

cleowww

Category:

CLICKS

,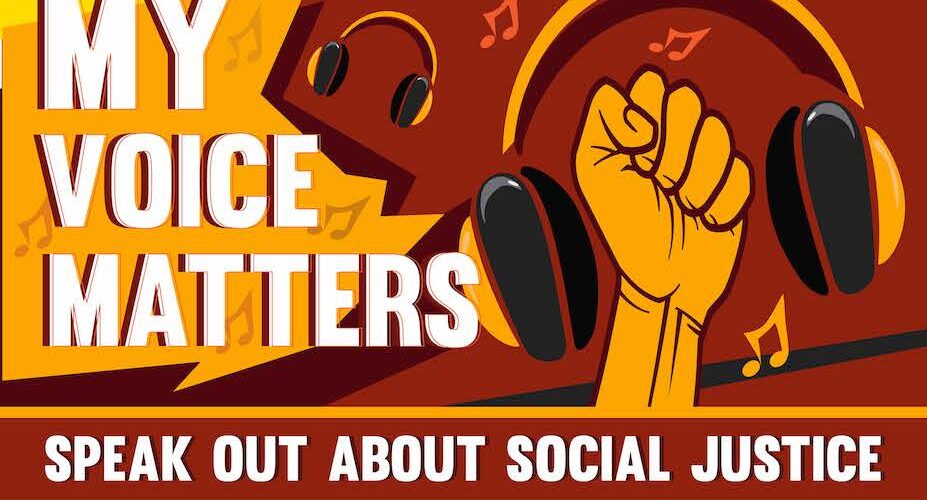 My Voice Matters Virtual Social Justice Teen Town Hall
Music & Protest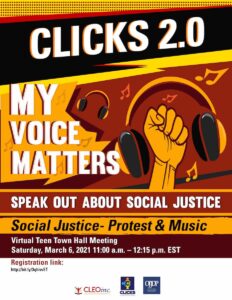 Largo, MD—February 18, 2021—On Saturday, March 6, 2021, in a virtual workshop setting, teenagers from across the east coast, will gather to explore the intersection of music and protesting social injustice. The symposium is tailored to provide students with a space to discuss their feelings regarding police misconduct, widespread inequality, economic disparities, and civil rights in relationship to some of the popular music they generally consume on a day-to- day basis. The goal is to encourage high school students to use their voices through music and other arts, social media, and community service  to speak out about social injustice in their local communities and abroad.
CLEO, the Council on Legal Education Opportunity, Inc., the longest-serving national organization committed to diversity in the legal profession, will sponsor this symposium  as a part of its CLEO Legally Inspired College Kohorts of Students (CLICKS) mentoring program. The summit will feature a panel of professional spoken word artists – Kwabena Nixon from Milwaukee, WI as well as Keyma Flight, a Baltimore City Youth Slam poetry champion. In addition to the panelists, students from Southern University Law Center will facilitate breakout sessions to analyze the lyrical content and imagery associated with popular, modern day protest music, such as "Bigger Picture," the chart-topping rap song by Atlanta, GA hip-hop artist, Lil' Baby.
The day-to-day stresses of virtual learning and living during a pandemic has placed many students at a disadvantage. For many, school, homework, and social activities are little to non-existent. Coupled with constant images of civil unrest fueled by the media, many students experience feelings of anger and disappointment with no outlet to fully express themselves. This symposium seeks to help remedy that by giving them a "seat at the table" and reaffirm the fact that their voices do indeed matter.
CLEO is committed to enriching the lives of the next generation by expanding the reach of legal education. The CLICKS "My Voice Matters: Social Justice Virtual Teen Town Hall" is designed to help address the aforementioned common stressors, as well as the overall pressures that students face during adolescence, by providing "wrap around" support services to support the "wholeness" of the student.
About the Council on Legal Education Opportunity, Inc.
CLEO, Inc. is a 501(c)(3) charitable organization whose mission is to inspire, motivate, and prepare students from underrepresented communities to succeed in law school and beyond. Founded in 1968, when the number of lawyers of color was less than one percent, CLEO has since had more than 25,000 high school, college prelaw, and law students participate in its programs with more than 46 percent becoming members of the legal profession. CLEO alumni have excelled in every area of the legal profession to include judges, corporate attorneys, law school deans and professors, practitioners, politicians, and more. More information about CLEO and its programs can be found at https://cleoinc.org.
About CLICKS
CLICKS, CLEO Legally Inspired College Kohort of Students, is federally funded by the Department of Justice (DOJ) – Office of Juvenile Justice and Delinquency Prevention (OJJDP) – https://ojjdp.ojp.gov. CLICKS is a multi-state, law-related mentoring support program that empowers at-risk youth through exposure to sports, law, and the legal profession. CLICKS recruits legal and other professionals as role models and mentors to give students an insider's look into the law. The mentoring program helps secondary students prepare for life after graduation by promoting self-esteem, soft-skills, academic success, and college and career readiness. More information about CLICKS and how you can get involved can be found at https://cleoinc.org/clicks/.
#     #     #
Media Contact
Manika Heilig, Regional Director of CLICKS
240-582-8600, ext. 206