CLEO NEWS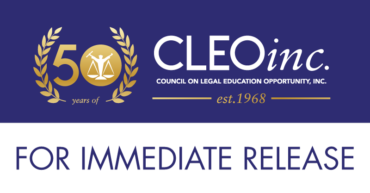 AdaptiBar Partners with CLEO Network expansion fuels AdaptiBar user growth, MBE success
AdaptiBar Partners with CLEO Network expansion fuels AdaptiBar user growth, MBE success March 9, 2019 Posted by: cleowww Category: Uncategorized, No Comments FOR IMMEDIATE RELEASE AdaptiBar Partners with CLEO Network expansion fuels AdaptiBar user growth, MBE success CHICAGO, March 5, 2019 – AdaptiBar, the patented bar exam test preparation software and analytics tools provider, is [...]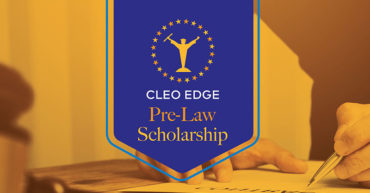 CLEO Launches New Pre-Law Scholarship
The Council on Legal Education Opportunity, Inc. (CLEO) will launch its new CLEO EDGE Pre-Law Scholarship for the 2019-2020 academic year. The application process will open February 15, 2019, and will close March 30, 2019. Grant recipients will be announced in mid-April 2019.
The program is made possible by a generous $100,000 grant from the Walmart Legal Department to CLEO, a national nonprofit organization seeking to expand opportunities for minority and low-income students to attend law school. The grant will help enable low-income and economically disadvantaged students to attend CLEO's Pre-Law Summer Institute in 2019 and assist in providing ongoing support as they enter law school.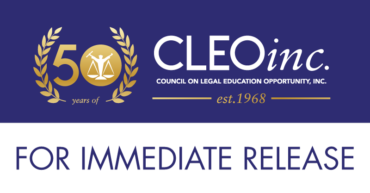 Political Commentator and Attorney Bakari Sellers to Emcee Inaugural CLEO EDGE Awards Gala
Son of Civil Rights Leader to Host Gathering of Social Justice Leaders,
Legal Scholars, and Legal Organizations Dedicated to Diversity and Inclusion
Largo, MD — November 1, 2018 — CNN Political Commentator and Attorney Bakari Sellers will host the Council on Legal Education Opportunity, Inc.'s (CLEO) 50th Anniversary Awards Gala on November 15, 2018, at The Ritz Carlton Washington, DC. The event will feature the inaugural CLEO EDGE Heritage Award given to Presidential adviser, attorney, and businessman Vernon E. Jordan, Jr. for his more than 50 years of service to the legal profession and his outstanding commitment to Education, Diversity, and Greater Equality in the legal profession and society. The event's theme is "The CLEO EDGE: 50 Years of Championing Education, Diversity, and Greater Equality in the Legal Profession." The fete will also celebrate 50 individuals, law schools, and legal organizations in each of the three categories.

Carlton D. Watson
Associate Attorney at Vandeveer Garzia, PC / CLEO 2010
CLEO fully prepared me to excel in law school and in the legal profession by providing me with invaluable tools, numerous employment opportunities, by way of interviews, and by expanding my professional network.

Jessica Leal
California Attorney General's Office / CLEO 2010
CLEO helped me solidify my commitment to a career in public service as an attorney and showed me I was able to become the attorney I wanted to be through hard work and perseverance.

Adrian Contreras
SOL, Deputy Attorney General / CLEO 2006
CLEO helped me understand what to expect from law school, what resources were available at the law school, how law school exams were structured, and which publications were good supplementary study guides.

Judge Tanya Brinkley
Miami-Dade County Judge / CLEO 1992
CLEO prepared me for a successful law school career and gave me the confidence to excel as a lawyer.

Ashley Williams
LAW STUDENT SCHOLAR
I was really motivated by [ASAP] on how to successfully apply for law school and tackle the LSAT. I loved the panel of current law students as well as the first-hand knowledge we received from members of the LSAC Board [and law school admission staff].

Edmund Vincent Yan
University of the Pacific, McGeorge School of Law (2011) / Principal Attorney of Edmund Vincent
CLEO showed me that anyone can become an exceptional attorney with hard work, passion, and the right support group, regardless of whether you fit the traditional profile that many people see in an attorney.