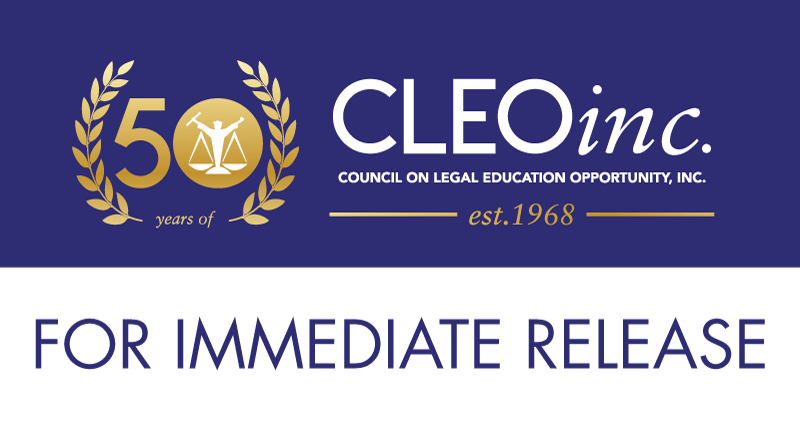 FOR IMMEDIATE RELEASE
July 27, 2018
Contact: Bernetta J. Hayes, Director
Prelaw Program Operations
bhayes@cleoinc.org – 240.582.8600 x203
CLEO 50th Anniversary "Greater Equality" Reception 
NYC Host Committee Announced 
Largo, MD – July 27, 2018 – The Council on Legal Education Opportunity, Inc. (CLEO) has announced the New York City Host Committee for its Greater Equality Reception to be held September 12, 2018, at New York City Athletic Club, 180 Central Park South.  New York City is the third celebration site of CLEO's 50th Anniversary, which includes three receptions and a gala in Washington, D.C.  The committee is composed of an array of local community and national leaders, law school deans, and partners in law.
Celebrating the theme, The CLEO EDGE: 50 Years of Championing Education, Diversity, and Greater Equality in the Legal Profession, the New York Reception will focus on individuals, organizations, and other legal entities that have had an impact on greater equality in legal education, the profession, and/or society.  CLEO will salute its history with a gala reception in Washington, D.C., on November 15, 2018. During the gala, noted civil rights leader, attorney, and business executive, Vernon E. Jordan, Jr. will receive the inaugural CLEO EDGE Heritage Award for his outstanding leadership and commitment to Education, Diversity, and Greater Equality for more than 50 years.  Bakari Sellers, attorney, CNN Commentator, and former South Carolina state representative will be the emcee.
The New York City Host Committee members are:
Adeola  Adejobi 
Avant-Garde Network
Kent Lollis
Law School Admission Council (LSAC)
Juan Arteaga
Crowell & Moring
Eliberty Lopez
Riley, Safer Holmes & Cancila
Adopho Birch
National Football League – NFL
Diane Lucas
Civil Rights Bureau – AG office of NY office
Gabrielle Brown
Morgan Stanley
Sonji Patrick
Latino Justice/PRLDEF
Stephen Brown
Fordham University School of Law
Donald Prophete
Constangy, Brooks, Smith and Prophete
Daniel Brown
Shepard Mullin
Jorge Rodriguez
New York Law School
Juan Cartagena
Latino Justice/PRLDEF
Yaneris Rosa
Honeywell International Inc.
Ryan Chapoteau
Jackson Lewis
Jean Schmidt
Littler
Jeremiah DeBerry
Mayer Brown
Nikki Simon
Greenberg Traurig
Matthew Diller
Fordham University School of Law
Eric Su
Ford & Harrison
Nitza Escalera
Fordham University School of Law
Bernarda Villalona
Brooklyn District Attorney Office
Darryl Franklin
Marriott International, Inc.
Temitope Yusuf
Arent Fox
Natalya Johnson
Riker Danzig Scherer Hyland & Perretti LLP
About the Council on Legal Education Opportunity, Inc.
CLEO, Inc. is a 501(c)(3) charitable organization committed to diversifying the legal profession by expanding legal education opportunities for persons from traditionally under-represented racial and ethnic groups, low-income, and disadvantaged communities. Founded in 1968, when the number of lawyers of color was less than one percent, CLEO has produced more than 10,000 individuals who have excelled in every area of the legal profession and include judges, corporate attorneys, law school deans and professors, practitioners, politicians, and more.  2018 is CLEO's golden anniversary.  More information about CLEO's 50th Anniversary can be found at https://cleoinc.org/50.