CLEO Announces CLEO EDGE Award Honorees for Education, Diversity, and Greater Equality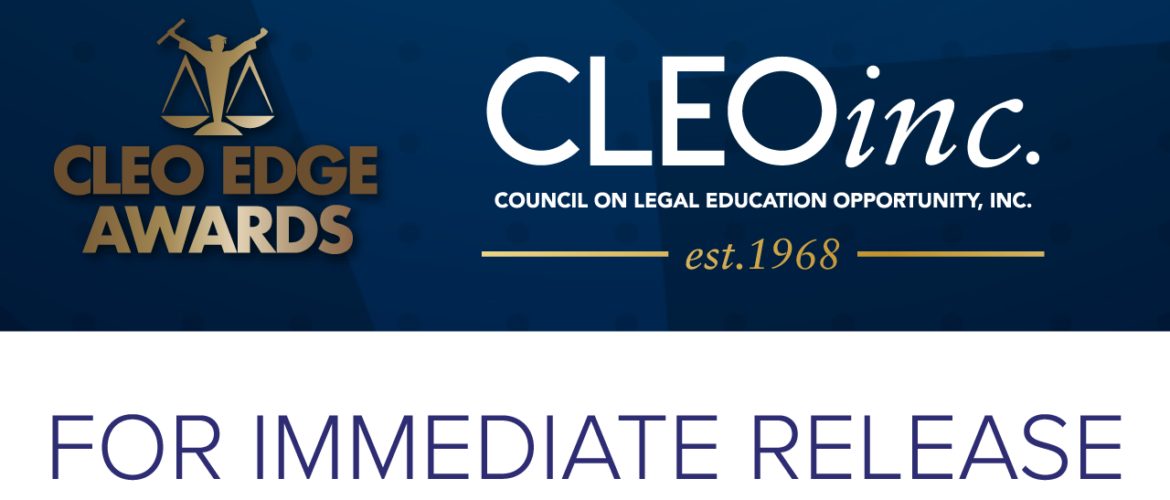 CLEO Announces CLEO EDGE Award Honorees for Education, Diversity, and Greater Equality
Recipients Include Individuals, Academia, and Organizations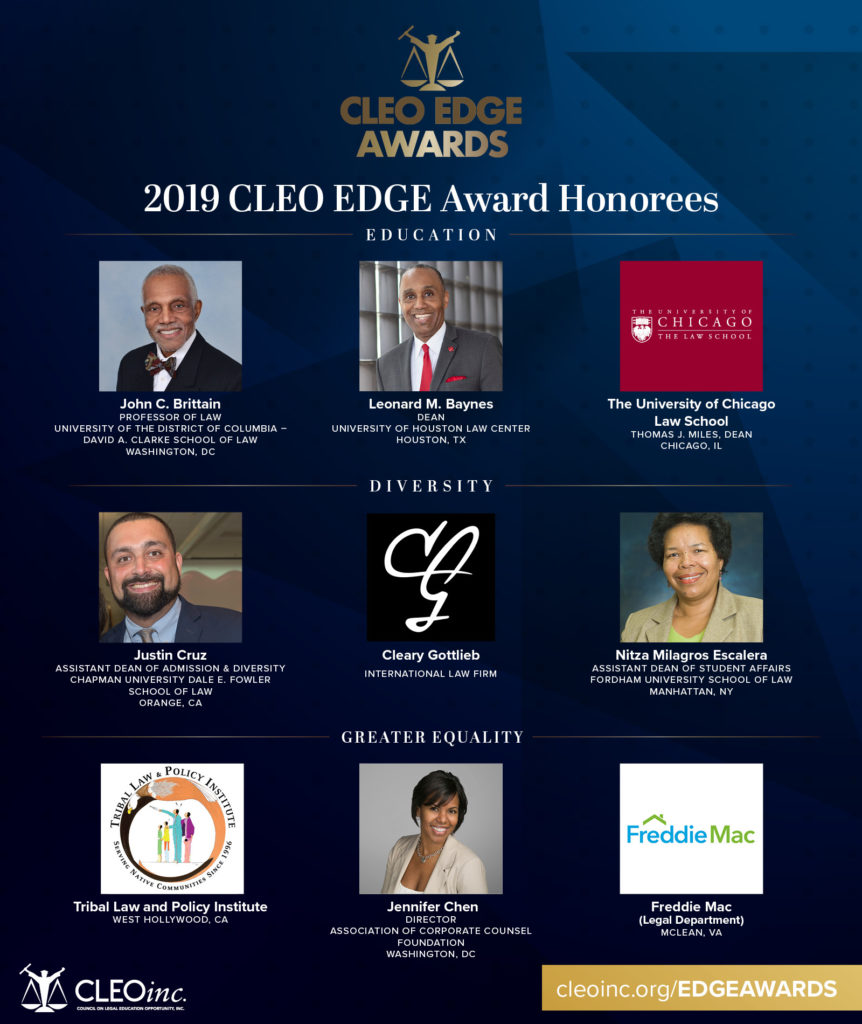 Largo, MD – September 16, 2019 – The Council on Legal Education Opportunity, Inc. (CLEO), widely renowned for its mission "to inspire, motivate, and prepare students from underrepresented communities to succeed in law school and beyond," has announced the recipients of the 2nd Annual CLEO EDGE Awards in Education, Diversity, and Greater Equality. Nine (9) honorees have been chosen from a host of  individuals and entities for their accomplishments. CLEO created this recognition in 2018 to promote its focus on the aforementioned three "pillars," which undergird the organization's purpose and in recognition of its 50th Anniversary.
"The recipients of this year's CLEO EDGE awards are dynamic examples of diversity and inclusion," said Cassandra Sneed Ogden, Chief Executive Officer of CLEO. "These characteristics are important to CLEO, the legal profession, and our nation. We believe these nine leaders appreciate and value diversity in all its forms!"
These honorees, along with former Governor of Massachusetts and current Managing Director of Bain Capital Double Impact, Deval L. Patrick, who will receive the second annual CLEO EDGE Vernon E. Jordan, Jr. Heritage Award, will be showcased during the CLEO EDGE Honors Reception. The event will take place on Thursday, November 7, 2019, at Google's offices in Washington, DC. Mr. Jordan will personally present the award to Governor Patrick.
---
The 2019 CLEO EDGE recipients are:
EDUCATION
John C. Brittain – Professor of Law, University of the District of Columbia – David A. Clarke School of Law, Washington, DC
Leonard M. Baynes – Dean, University of Houston Law Center, Houston, TX
The University of Chicago Law School – Thomas J. Miles, Dean, Chicago, IL
DIVERSITY
Justin Cruz – Assistant Dean of Admission & Diversity, Chapman University Dale E. Fowler School of Law, Orange, CA
Cleary Gottlieb – International Law Firm
Nitza Milagros Escalera – Assistant Dean of Student Affairs, Fordham University School of Law, Manhattan, NY
GREATER EQUALITY
Tribal Law and Policy Institute – West Hollywood, CA
Jennifer Chen – Director, Association of Corporate Counsel Foundation, Washington, DC
Freddie Mac (Legal Department) – McLean, VA
About the Council on Legal Education Opportunity, Inc.
CLEO, Inc. is a 501(c)(3) charitable organization committed to inspiring, motivating, and preparing students from underrepresented communities to succeed in law school and beyond. More than 25,000 high school, college, prelaw, and law students have participated in CLEO's programs with more than 46 percent becoming members of the legal profession.  Founded in 1968, when diversity in the legal profession was less than one percent, CLEO alumni have excelled in every area to include judges, corporate attorneys, law school deans and professors, practitioners, politicians, and more. More information about CLEO and its programs can be found at https://cleoinc.org/  Information about the CLEO EDGE Honors Reception can be found at https://cleoinc.org/edgeawards/
#     #     #
Media Contact:
Bernetta J. Hayes
240-455-4360
bhayes@cleoinc.org