CLEO Announces Pre-Law Scholarship Recipients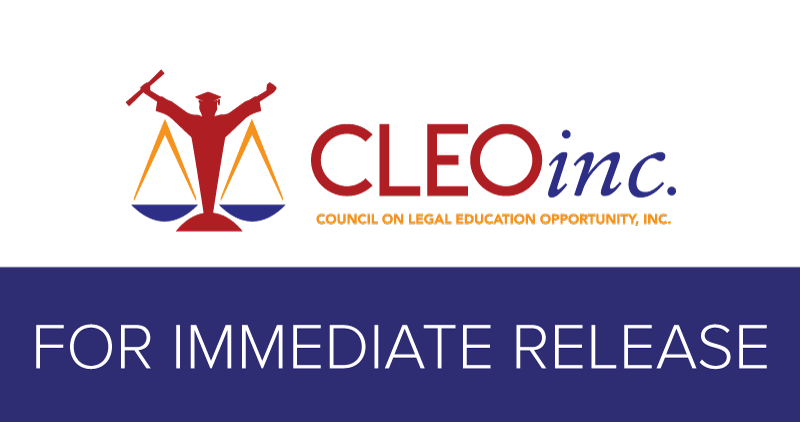 CLEO

Announce

s

Pre-Law Scholarship Recipients
Largo, MD – June 23, 2020 – Twenty-one persons will receive the Council on Legal Education Opportunity, Inc.'sEDGE Pre-Law Scholarship Award to help students attend the 2020 Pre-Law Summer Institute. The awards were made possible by generous grants from the Walmart Legal Department; the law firms McCarter & English and Phelps Dunbar, LLP; a philanthropic organization, the Charles E. Griffin, Jr. Memorial Scholarship Fund of the Community Foundation for Mississippi; and CLEO Board member Malcolm Morris. Students were chosen based on needs, in addition to academic achievements and a video essay.
The $1000 scholarships will cover the recipient's cost of tuition, fees, and materials at the Pre-Law Summer Institute held virtually at The Pennsylvania State University, Dickinson Law in Carlisle, Pennsylvania.  This is the first time in its 52-year history that CLEO will host one of its major programs online to reach its diverse audiences in response to the novel coronavirus.
CLEO EDGE Pre-Law Scholarship recipients are:
​Aaron Agramon – Riverside, CA
Somarys Alcantara – Miami Gardens, FL
Jahkari Aujla-Singh – Tukwila, WA
Shila Bayor – Queens, NY
Monica Calderon – South Bend, IN
Abraham Colinet – Roselle, NJ
Kayla Duhaney – Mt. Vernon, NY
Audriana Berry Dunn – Sacramento, CA
Jeremy A. Garcia – New York, NY
Jamal Grimes – Ormond Beach, FL
Alexis Hammond – Spartanburg, SC
Zaria Kinnebrew – Detroit, MI
Casey McGowan – Memphis, TN
Stephanie Maldonado – Los Angeles, CA
Crisalynn Moses – Raymond, MS
David Pham – Garden Grove, CA
Natesha Rosado – Bronx, NY
Bobby Turner – Naperville, IL
Elsie Villega – Brooklyn, NY
Octavia Williams – Philadelphia, PA
Aaron Zambrano – Altadena, CA
    "This is the second year we have been able to provide deserving students with a scholarship to help them get prepared for law school," said Cassandra Sneed Ogden, the Chief Executive Officer of CLEO.  "We appreciate the generosity of our donors and wish the recipients great success on their law school journey."
About the Council on Legal Education Opportunity, Inc.
CLEO, Inc. is a 501(c)(3) charitable organization committed to diversifying the legal profession by expanding legal education opportunities for persons from traditionally under-represented racial and ethnic groups, low-income, and disadvantaged communities. Founded in 1968, when the number of lawyers of color was less than one percent, CLEO has produced more than 25,000 individuals who have excelled in every area of the legal profession and include judges, corporate attorneys, law school deans and professors, practitioners, politicians, and more.    Additional information about CLEO and its programs can be found at https://cleoinc.org/