CLEO EDGE PODCAST: Featuring Attorney Jennifer Jones Goulston & Storrs
August 3, 2023

Posted by:

CLEO WebAdmin

Category:

NEWS

,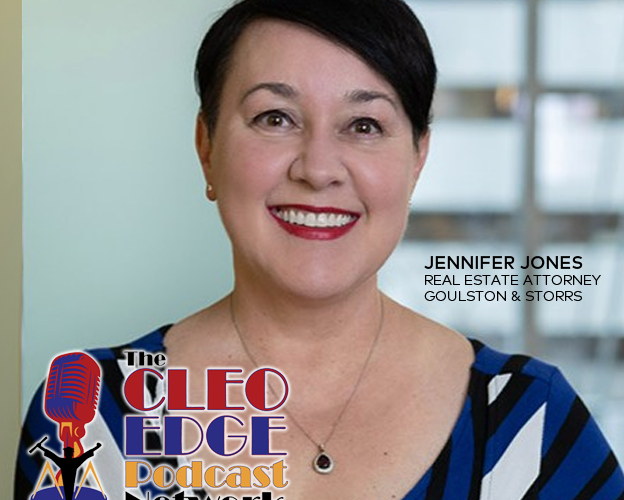 CLEO EDGE PODCAST
Examining Diversity, Access to Law School, and
Issues Shaping Today's Legal Profession
– EPISODE 13 –
JENNIFER JONES
CLEO Edge Podcast Ep.13 – CLEO Chief Operating Officer, Leigh Allen II, Interview with Goulston & Storrs Real Estate Attorney Jennifer Jones
Want to hear more about the intersection of gender and law, as well as the merits of "work/life balance?" Then check out the newest episode of The CLEO EDGE Podcast, featuring trailblazing attorney, Jennifer Jones, a DC-based partner with Goulston & Storrs.
Attorney Jones, a longtime champion of DEI in the legal profession, speaks to the important role her father's work in commercial real estate played in "igniting" her passion for this complex practice area. After completing a master's program, she ultimately found a way to pair her love of real estate with her curiosity and intrigue of the law.
In this episode, Jones talks with CLEO's COO, Leigh Allen II, about her long, winding journey in the profession via the lens of generational differences and constant pursuit of gender parity. She discusses how she aims to help create space for other women and people of color to share their voices and succeed in the field the way she has been able to. Tune in to learn more about her admirable professional accomplishments and the tangible impact her advocacy efforts have had within the organizations she has been affiliated with throughout her career.
Episode 13 is now available on Apple, Spotify, and YouTube.
View all CLEO EDGE Podcasts and Channels at: cleoinc.org/podcast
#DEI #goulstonstorrs #womeninlaw⚖️ #prelaw #legaleducation #cleoscholars
---
About the Council on Legal Education Opportunity, Inc.
CLEO, Inc. is a 501(c)(3) charitable organization committed to diversifying the legal profession by expanding legal education opportunities for persons from traditionally under-represented racial and ethnic groups, low-income, and disadvantaged communities. Founded in 1968, when the number of lawyers of color was less than one percent, CLEO has since had more than 30,000 high school, college, prelaw, and law students participate in its programs. CLEO alumni have excelled in every area of the legal profession to include judges, corporate attorneys, law school deans and professors, practitioners, and politicians. More information about CLEO, its 50+ year history, and its programs can be found at https://cleoinc.org/ and https://cleoconnection.com.
#     #     #
Media Contact:
Dominique Moss, M.Ed.
Director of Law School Initiatives
dmoss@cleoinc.org
(240) 582-8600