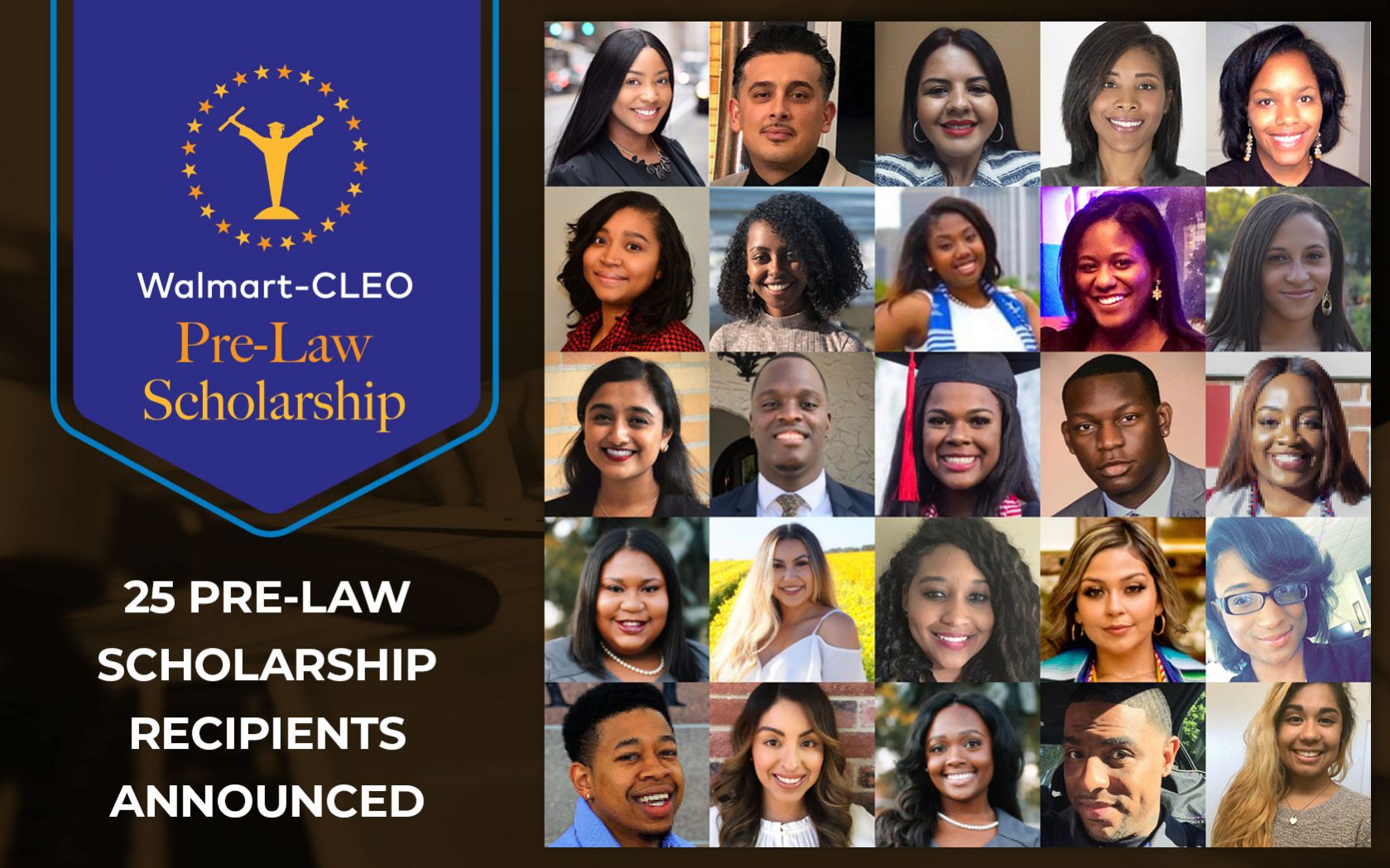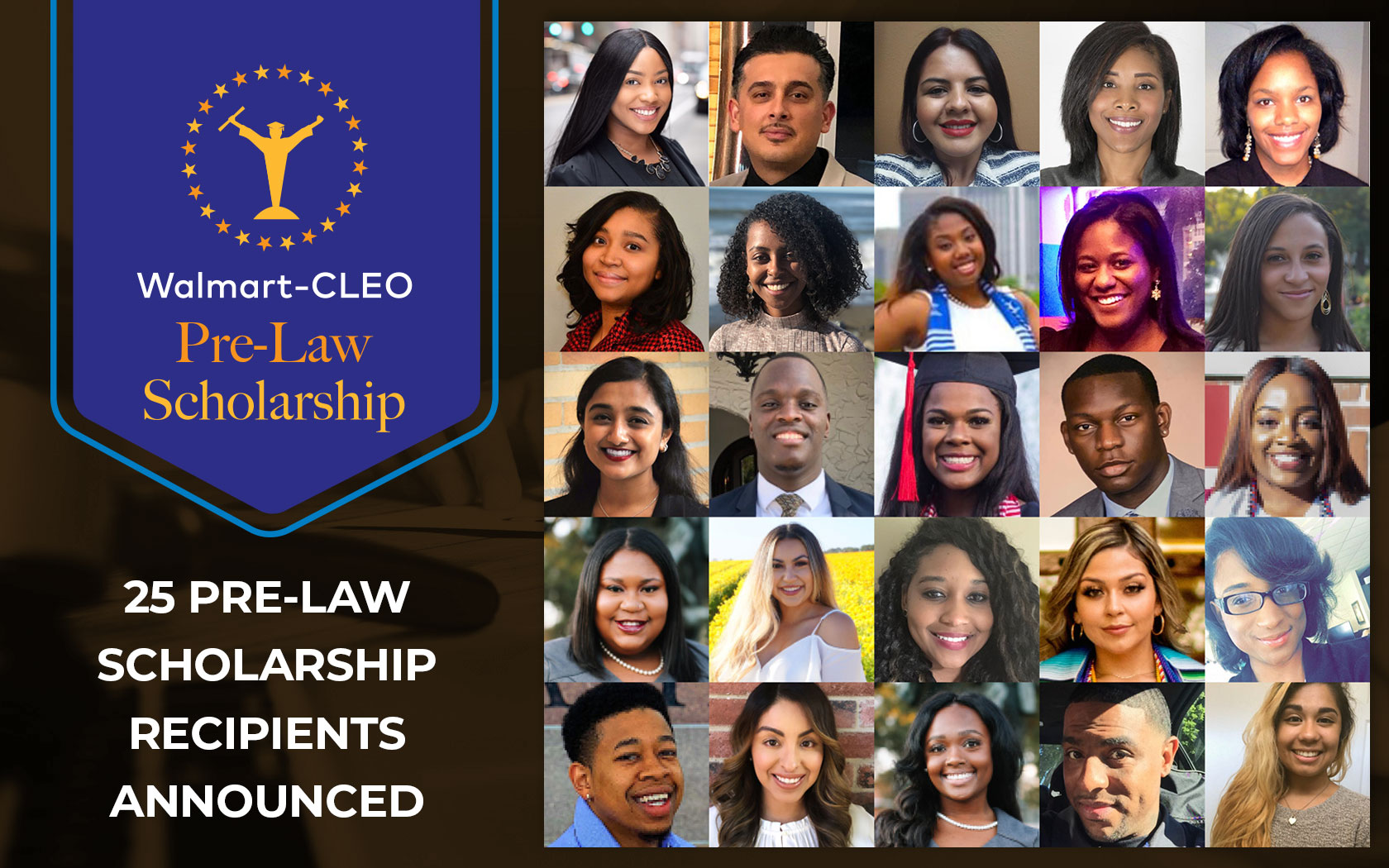 CLEO EDGE Pre-Law Scholarship Recipients Announced
May 14, 2019

Posted by:

cleowww

Category:

PRESS

,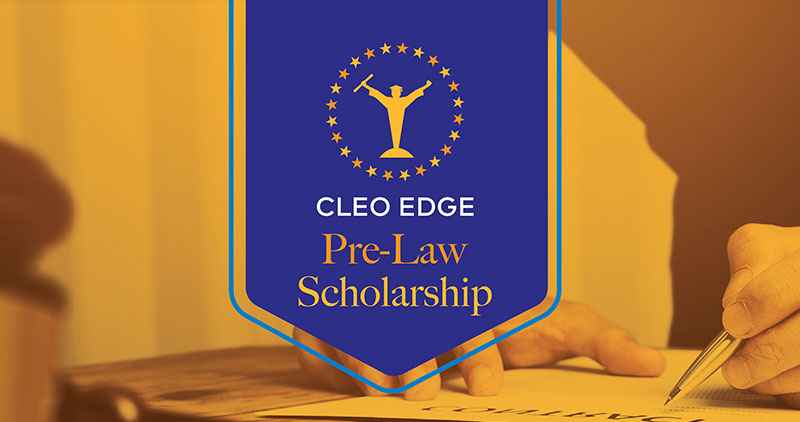 Largo, MD – May 14, 2019 – The Council on Legal Education Opportunity, Inc. (CLEO) announced the 25 recipients of its CLEO EDGE Pre-Law Scholarship Award.  The award was made possible by a generous $100,000 grant from the Walmart Legal Department to help students attend the CLEO 2019 Pre-Law Summer Institute. Students were chosen based on financial need, academic achievements, and video essay.
"We are elated that so many of our students could take advantage of this opportunity to get a head start on their legal education," said Cassandra Sneed Ogden, CLEO's Chief Executive Officer.  "Expanding opportunities for underserved communities is a part of our core mission."
The $2500 scholarships will cover the recipient's tuition, fees, books, and room and board at the Pre-Law Summer Institute held at Southern University Law Center, Baton Rouge, Louisiana.  This is the first time the CLEO EDGE Pre-Law Scholarship has been given.
CLEO EDGE Pre-Law Scholarship recipients are:
Chantell Abou-Hamdan, Austin, TX
Elsa Alvarez, Round Rock, TX
Fito Andre, Stuart, FL
Fatelia Avery, Memphis, TN
Rashaun Bailey, Los Angeles, CA
Samantha Bautista, San Diego, CA
Beatrice Beaubrun, Durham, NC
Jasmine Bermudez, Delano, CA
Ginta Bickerstaff, Atlanta, GA
Jody Bryant, II, Omaha, NE
Carlos Contreras, Pullman, WA
Miriam Contreras, San Jose, CA
Arielle David, Middle Island, NY
Jeanmarie Elican, Philadelphia, PA
Feven Ezra, Oakland, CA
Campbell Goin, Queens Village, NY
Conicia Jackson, St. Louis, MO
Dorthy Lukens, Mansfield, TX
Kendall Michael, Muscle Shoals, AL
Priya Patel, Stockton, CA
Jazmine Polk, Omaha, NE
Mollie Ponds, Belton, MO
Justine Scott, Sunrise, FL
Austin Turk, Mobile, AL
Erica Young, Greendale, WI
The 50-year old Pre-Law Summer Institute is CLEO's premiere program to help students prepare for the rigors of the first year of law school.  It is held annually at and hosted by an ABA-approved law school.
About the Council on Legal Education Opportunity, Inc.
CLEO, Inc. is a 501(c)(3) charitable organization committed to diversifying the legal profession by expanding legal education opportunities for persons from traditionally under-represented racial and ethnic groups, low-income, and disadvantaged communities.  Founded in 1968, when the number of lawyers of color was less than one percent, CLEO has had more than 25,000 high school, college, prelaw, and law students to participate in its programs with more than 46% becoming members of the legal profession. CLEO alumni have excelled in every area of the legal profession to include judges, corporate attorneys, law school deans and professors, practitioners, politicians, and more. More information about CLEO and its programs can be found at https://cleoinc.org/
#     #     #