CLEO Launches Vernon E. Jordan, Jr. Civil Rights Scholarship During 51st Anniversary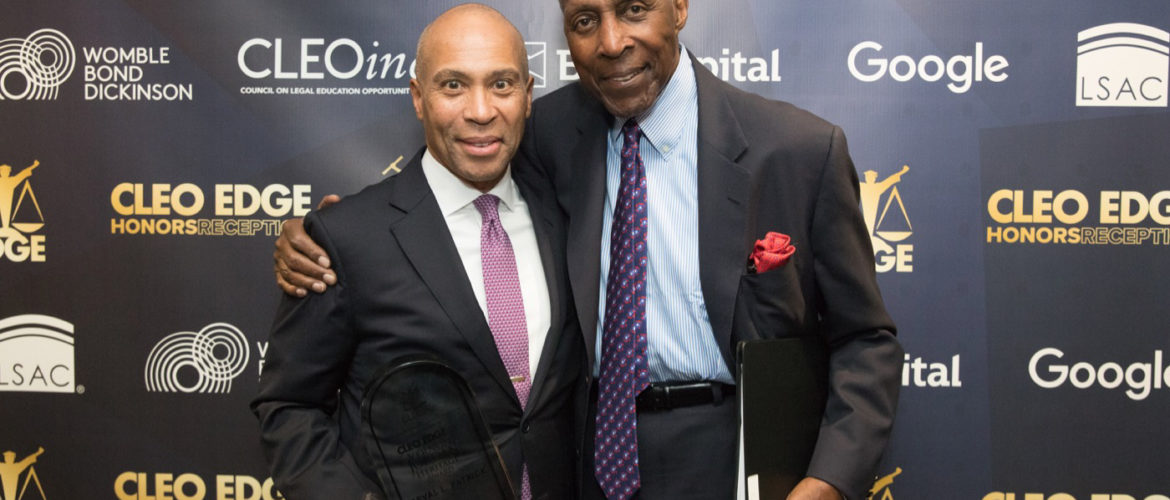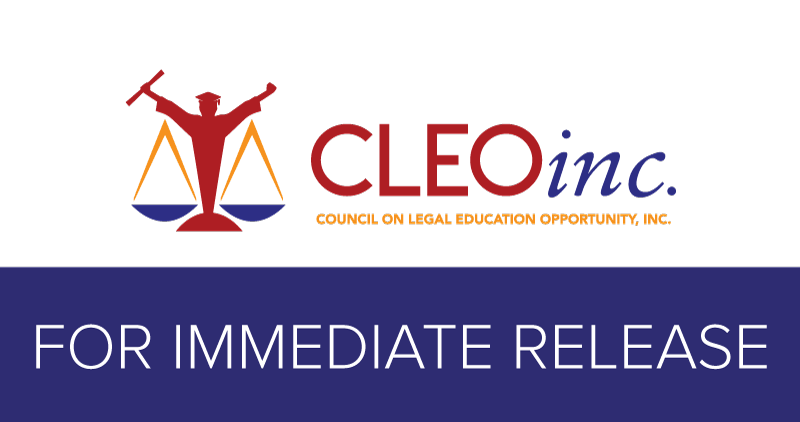 CLEO Launches Vernon E. Jordan, Jr. Civil Rights Scholarship During 51st Anniversary
Targets Students Passionate About Protecting Civil Rights for All
     Largo, MD— November 21, 2019 – The Council on Legal Education Opportunity, Inc. (CLEO), the longest-serving national organization committed to diversity in the legal profession, recently launched the Vernon E. Jordan, Jr. Civil Rights Scholarship to assist first-year law students who are passionate about protecting the civil rights of all Americans.  The scholarship was announced during the 51st Anniversary CLEO EDGE Honors Reception during which Mr. Jordan personally presented the Vernon E. Jordan, Jr. CLEO EDGE Heritage Award to Deval L. Patrick, the 71st governor of Massachusetts and 2020 U.S. presidential candidate. Nine other individuals and organizations were also recognized for their outstanding commitment to Diversity, Education and Greater Equality.   In presenting the award to Deval Patrick, Mr. Jordan noted:
"Deval is the first African American governor of Massachusetts and just the second in the history of America.  From his days at Milton Academy to Harvard Law School, this young man has embodied a belief in education and leadership, and like many CLEO students, Deval was the first in his family to attend law school. "
   The scholarship is in recognition of Jordan's more than 50 years of service to the legal profession and lifetime commitment to improving the quality of life for individuals from underserved communities.  Jordan became a trailblazer in the civil rights movement in the early 1960s after graduating from Howard University School of Law.  A practicing civil rights attorney, he joined the NAACP as a Field Director early in his career, working to end discrimination, increase voter registration, and change laws to support legislation beneficial to all Americans.
A few of his many accomplishments include:
Successfully suing to end the racially discriminatory admissions policies of the University of Georgia and then personally escorting one of its first Black students through a hostile White mob to the admissions office;
Enabling economic empowerment and equal access to a college education for the underserved through visionary leadership of the Urban League and the United Negro College Fund.
     "The cornerstone of this scholarship will be the recipients' passion for safeguarding the civil rights of all Americans, but especially those who are disenfranchised," said Cassandra Sneed Ogden, CLEO's CEO.  "We anticipate this scholarship to attract large numbers of students who believe in social justice and who want to give back to their communities."
     CLEO's goal is to present 10 scholarships next year. Scholarship recipients will be announced in July 2020.  Donations can be made to the Vernon E. Jordan, Jr. Civil Rights Scholarship at www.cleoinc.org/donate.
About the Council on Legal Education Opportunity, Inc.
CLEO, Inc. is a 501(c)(3) charitable organization whose mission is to inspire, motivate, and prepare students from underrepresented communities to succeed in law school and beyond.  Founded in 1968, when the number of lawyers of color was less than one percent, CLEO has since had more than 25,000 high school, college pre-law, and law students participate in its programs with more than 46 percent becoming members of the legal profession.  CLEO alumni have excelled in every area of the legal profession to include judges, corporate attorneys, law school deans and professors, practitioners, politicians, and more.  More information about CLEO and its programs can be found at cleoinc.org. 
#     #    #   
Council on Legal Education Opportunity, Inc. (CLEO)
1101 Mercantile Lane, Suite 294 • Largo, MD 20774
www.cleoinc.org • 240.582.8600 • 240.582.8605 fax