Four Individuals and a Law School Are Recipients of CLEO EDGE Honors Awards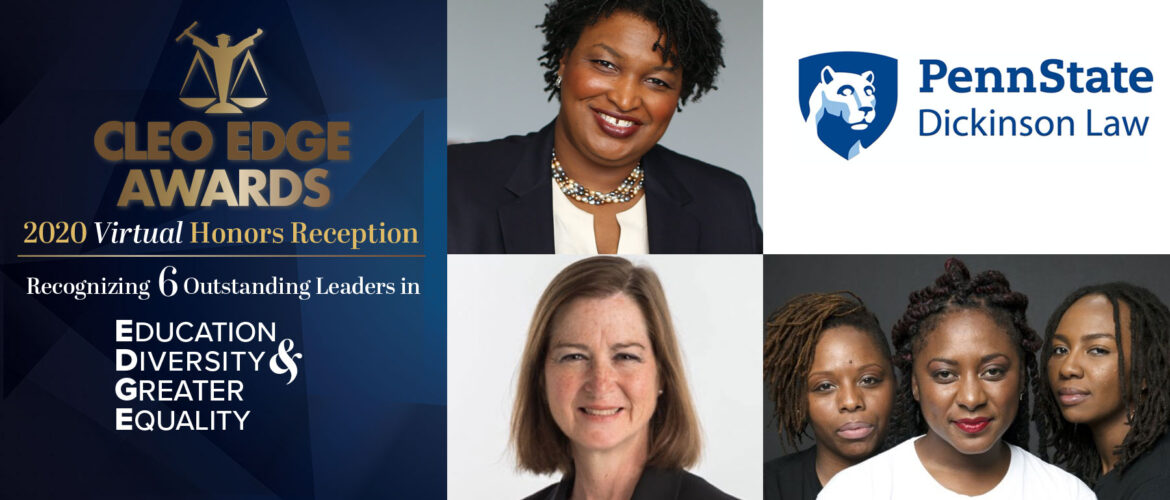 Recognized during November 12th Virtual Awards Reception
Largo, MD – November 10, 2020 – The Council on Legal Education Opportunity, Inc. (CLEO) is pleased to announce the recipients of the 2020 CLEO EDGE Awards in Education, Diversity, and Greater Equality. CLEO, widely renowned for its mission to increase the number of lawyers from diverse backgrounds, created these recognition awards to promote its focus on the three pillars or characteristics which undergird the organization's purpose and in recognition of its 50th anniversary. Those pillars are Education, Diversity, and Greater Equality. Four individuals and a law school will be recognized during the CLEO EDGE Virtual Honors Reception on November 12, 2020, at 6pm.
"The CLEO EDGE Honors Awards are a way of acknowledging and celebrating the achievements of individuals, law schools, and organizations that have impacted legal education, the legal profession, and society in general. These honorees have made notable contributions to education, their communities, and the nation," said Cassandra Sneed Ogden, Chief Executive Officer of CLEO.
This year, Penn State Dickinson Law has been chosen as the Education award recipient. As the oldest law school in the Commonwealth of Pennsylvania and one of the oldest law schools in the nation, Dickinson Law has been a CLEO law school partner for more than 30 years. Most recently Dickinson Law served as the 2020 virtual site of CLEO's preeminent pipeline program, the Pre-Law Summer Institute–a first in the 52-year history of the Institute.
"Dickinson Law shares CLEO's commitment to championing education, diversity, equity, and inclusion in law schools and in the legal profession," said Dickinson Law Dean and Donald J. Farage Professor of Law Danielle M. Conway. "On behalf of the Dickinson Law community, I would like to thank CLEO for recognizing Dickinson Law and our fellow honorees' collective leadership and work toward the laudable goals of justice and equality for all."
The Diversity award recipient is Barbara L. McQuade. McQuade is a law professor at The University of Michigan Law School. A former US attorney for the Eastern District of Michigan, McQuade is also as a legal analyst for NBC News and MSNBC. "I am looking forward to the event and honored to be recognized by CLEO, which is working with urgency to improve the diversity of our profession," said McQuade.
Alicia Garza, Patrisse Cullors, and Opal Tometi, the co-founders of the Black Lives Matter (BLM) Movement, are the recipients of the Greater Equality award. Garza, Cullors, and Tometi were the originators of the hashtag #BlackLivesMatter on social media and the call to action.  BLM is considered to be the largest movement in US History with an estimated 15-26 million people participating.
About the Council on Legal Education Opportunity, Inc.
CLEO, Inc. is a 501(c)(3) charitable organization committed to diversifying the legal profession by expanding legal education opportunities for persons from traditionally under-represented racial and ethnic groups, low-income, and disadvantaged communities. Founded in 1968, when the number of lawyers of color was less than one percent, CLEO has since had more than 25,000 high school, college prelaw, and law students participate in its programs with more than 46 percent becoming members of the legal profession.  CLEO alumni have excelled in every area of the legal profession to include judges, corporate attorneys, law school deans and professors, practitioners, politicians, and more.  More information about CLEO and its programs can be found at https://cleoinc.org/. For more information about CLEO's 52nd Anniversary, the CLEO EDGE nominees, or how to RSVP for the event, visit: https://cleoinc.org/edgeawards/rsvp/
#     #    #
Media Contact:
Bernetta J. Hayes, Director of Program Operations
bhayes@cleoinc.org
240-582-8600, ext. 203