FOR IMMEDIATE RELEASE
September 4, 2018
CLEO EDGE Gala Committee Announced
Members Plan November 15 Gala at The Ritz Carlton Washington, DC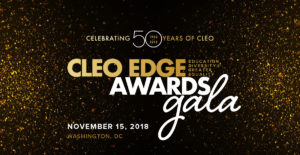 Largo, MD – September 4, 2018 – The Council on Legal Education Opportunity, Inc. (CLEO) announced that 25 persons have volunteered to serve on the Gala Committee for its 50th Anniversary to be held November 15, 2018, at The Ritz Carlton, Washington, DC. The Gala Committee plans and implements the major fundraiser that benefits CLEO's programs. Phyllis P. Harris, Senior Vice President and General Counsel of Legal Operations at Walmart, Inc. and a CLEO alumna, is the chairperson.
The Gala Committee includes national and local leaders of the community such as non-profit executives, law firm partners, legal academicians, and legal counsel. A complete list of the 50th Anniversary Gala Committee can be found at https://cleoinc.org/50/events/dc/
Based on the theme "The CLEO EDGE: 50 Years of Championing Education, Diversity, and Greater Equality," the gala will recognize 150 individuals, law schools, and organizations that have impacted legal education, the legal profession, and society in general. Widely renowned for its mission to increase the number of lawyers from diverse backgrounds, CLEO created these recognition awards to promote its focus on the three pillars or characteristics which undergird the organization's purpose and in recognition of its 50thanniversary. Those pillars are Education, Diversity, and Greater Equality.
Vernon E. Jordan, Jr., noted civil rights leader, attorney, and businessman will personally receive the inaugural CLEO EDGE Vernon E. Jordan, Jr. Heritage Award, which will be given in recognition of his more than 50 years of service to the legal profession and the embodiment of all three categories.
"The CLEO EDGE Awards are a way of acknowledging and celebrating the achievements of individuals, law schools, and organizations. These honorees have made notable contributions to education, their communities, and the nation," said Cassandra Sneed Ogden, Chief Executive Officer of CLEO. "We are especially pleased to honor Vernon Jordan as the first recipient of the CLEO EDGE Heritage Award because he has long been a leader in the fight for social justice, diversity, and inclusion in our nation. And, he is a model for our students."
Bakari Sellers, political commentator and attorney, will emcee the program. Tickets are $250 per person and sponsorship opportunities are also available. Reservations are required. Gala tickets can be obtained by visiting https://cleoinc.org/50/events/dc
About the Council on Legal Education Opportunity, Inc.
CLEO, Inc. is a 501(c)(3) charitable organization committed to diversifying the legal profession by expanding legal education opportunities for persons from traditionally under-represented racial and ethnic groups, low-income, and disadvantaged communities. Founded in 1968, when the number of lawyers of color was less than one percent, CLEO has produced more than 10,000 individuals who have excelled in every area of the legal profession and include judges, corporate attorneys, law school deans and professors, practitioners, politicians, and more. 2018 is CLEO's golden anniversary. More information about CLEO's 50th Anniversary, the Gala Committee, or the CLEO EDGE Award nominees can be found at https://cleoinc.org/50/
# # #
Media Contact:
Bernetta J. Hayes
240-582-8600, ext. 203
bhayes@cleoinc.org