FOR IMMEDIATE RELEASE
August 30, 2018
Contact: Bernetta J. Hayes, Director
Prelaw Program Operations
bhayes@cleoinc.org – 240.582.8600 x203
Nominations for Inaugural Greater Equality Award Announced
Reception Rounds Out 50th Anniversary Pre-Gala Celebrations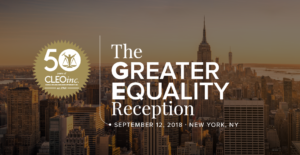 Largo, MD – August 30, 2018 – Individuals, law schools, and legal organizations that have made a significant impact on 
greater equality
 in legal education, the profession, and/or society will be recognized on Wednesday, September 12, 2018, at The New York Athletic Club, in New York City by the Council on Legal Education Opportunity, Inc. (CLEO).  The Greater Equality Reception is the third reception of CLEO's year-long 50
th
 anniversary activities. 
 For a complete list of nominees, please visit 
https://cleoinc.org/50/50-for-50/greaterequality/
.
The inaugural CLEO EDGE Vernon E. Jordan, Jr. Heritage Award will be personally presented to Mr. Jordan, civil rights icon, lawyer, and business executive at the November 15, 2018 gala for his outstanding leadership and commitment to Education, Diversity, and Greater Equality for more than 50 years.  Bakari Sellers, attorney, political commentator, and former legislator will be the emcee.  Based on the theme "The CLEO EDGE:  50 Years of Championing 
E
ducation, 
D
iversity, and 
G
reater 
E
quality," the historic event will be held at The Ritz Carlton in Washington, DC, where 50 finalists in each of the three categories also will be honored.  Gala tickets can be obtained by visiting 
https://cleoinc.org/50/events/dc/
.
About the Council on Legal Education Opportunity, Inc.
CLEO, Inc. is a 501(c)(3) charitable organization committed to diversifying the legal profession by expanding legal education opportunities for persons from traditionally under-represented racial and ethnic groups, low-income, and disadvantaged communities. Founded in 1968, when the number of lawyers of color was less than one percent, CLEO has produced more than 10,000 individuals who have excelled in every area of the legal profession and include judges, corporate attorneys, law school deans and professors, practitioners, politicians, and more.  2018 is CLEO's golden anniversary.  More information about CLEO's 50th Anniversary can be found at https://cleoinc.org/50/.