Political Commentator and Attorney Bakari Sellers to Emcee
Inaugural CLEO EDGE Awards Gala
Son of Civil Rights Leader to Host Gathering of Social Justice Leaders,
Legal Scholars, and  Legal Organizations Dedicated to Diversity and Inclusion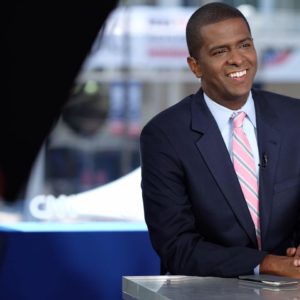 Largo, MD — November 1, 2018 — CNN Political Commentator and Attorney Bakari Sellers will host the Council on Legal Education Opportunity, Inc.'s (CLEO) 50th Anniversary Awards Gala on November 15, 2018, at The Ritz Carlton Washington, DC.  The event will feature the inaugural CLEO EDGE Heritage Award given to Presidential adviser, attorney, and businessman Vernon E. Jordan, Jr. for his more than 50 years of service to the legal profession and his outstanding commitment to Education, Diversity, and Greater Equality in the legal profession and society.  The event's theme is "The CLEO EDGE:  50 Years of Championing Education, Diversity, and Greater Equality in the Legal Profession."  The fete will also celebrate 50 individuals, law schools, and legal organizations in each of the three categories.
Sellers is a former South Carolina legislator who served from 2006 – 2014.  When elected at 22 years old, he was the youngest member of the South Carolina House of Representatives.  Sellers has been touted as one of the "rising stars" of the Democratic Party.  Currently he is an attorney with Strom Law Firm, L.L.C. in Columbia, South Carolina.  His notable list of accomplishments include Time Magazine's 40 Under 40 in 2010 and "The Root 100" list of the nation's most influential African Americans 2014 and 2015.
"CLEO is extremely pleased to have this young man as our emcee," said Cassandra Sneed Ogden, CLEO's Chief Executive Officer. "He epitomizes our mantra: 'Training Tomorrow's Lawyers, Preparing Tomorrow's Leaders.'  And he certainly represents what we envision our students becoming."
Sellers is a graduate of Morehouse College and University of South Carolina School of Law.  He also is the subject of a new documentary about his unsuccessful run for lieutenant governor in 2014, "While I Breathe, I Hope," the title of which comes from South Carolina's state motto.
About the Council on Legal Education Opportunity, Inc.
CLEO, Inc. is a 501(c)(3) charitable organization committed to diversifying the legal profession by expanding legal education opportunities for persons from traditionally under-represented racial and ethnic groups, low-income, and disadvantaged communities. Founded in 1968, when the number of lawyers of color was less than one percent, CLEO has produced more than 10,000 individuals who have excelled in every area of the legal profession and include judges, corporate attorneys, law school deans and professors, practitioners, politicians, and more.  2018 is CLEO's golden anniversary.  More information about CLEO's 50th Anniversary, Bakari Sellers, or how to purchase gala tickets can be found at https://cleoinc.org/50/
###