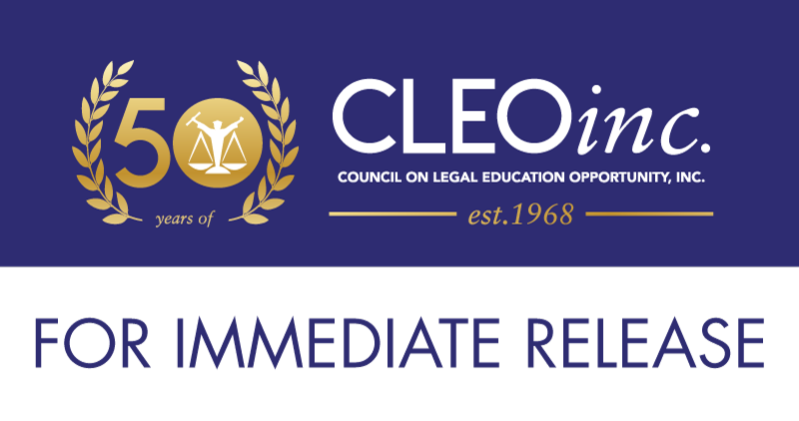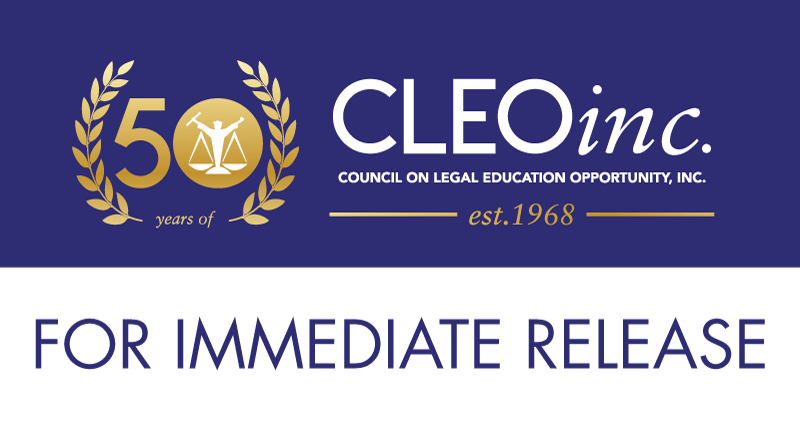 Largo, MD—September 19, 2018—Vernon E. Jordan, Jr., advisor to presidents, noted civil rights leader/activist, attorney, businessman, and a board member to several Fortune 500 companies has been named the inaugural recipient of the Council on Legal Education Opportunity, Inc.'s CLEO EDGE Heritage Award.  Hereafter, the award will be named the "CLEO EDGE Vernon E. Jordan, Jr. Heritage Award" to commemorate his lifetime achievements. The Award will honor a person who has demonstrated outstanding leadership in Education, Diversity, and Greater Equality in the legal profession and society.
Jordan will be honored at the CLEO 50th Anniversary Awards Gala on November 15, 2018, at The Ritz Carlton – Washington, D.C.  The theme for the occasion is "The CLEO EDGE:  50 Years of Championing Education, Diversity, and Greater Equality in the Legal Profession."  The legendary civil rights icon will personally receive the award in recognition of his more than 50 years of service to the legal profession and his unwavering commitment to all three areas.  An additional 150 individuals, law schools, and legal organizations will also be celebrated at the event.  Bakari Sellers, attorney, political commentator, and former legislator will be the emcee for the Awards Gala.
When Jordan matriculated at Howard University School of Law in 1957-1960, less than 1% of lawyers in the United States were African American (0.75% according to U.S. Census data).  And the scarcity of Native American and Latino lawyers was even more startling.  As a practicing civil rights attorney in Atlanta, Georgia, he was one of only 393 African-American lawyers in 10 Southern states.  Trained to make a difference in American life, Jordan became a trailblazer in the civil rights movement, joining the NAACP as a Field Director early in his career, working to end discrimination, increase voter registration, and change laws to support legislation beneficial to the advancement of equality for all Americans. In 1969 Jordan became the first black Fellow of the Institute of Politics at the John F. Kennedy School of Government at Harvard University.
He later served as the President and Chief Executive Officer of the National Urban League, Inc.  and the Executive Director of the United Negro College Fund, Inc. Throughout his lifetime Jordan broke down numerous barriers, including becoming the first African American to sit on a Fortune 500 company board.  After spending much of his life in the civil rights movement, Jordan became a partner at Akin Gump Strauss Hauer & Feld LLP, an international law firm and one of the most profitable lobbying firms in the United States and served both Presidents Clinton and Obama in various capacities. Currently he serves as a Senior Executive Partner with Akin Gump and a Senior Managing Director of Lazard Frères & Co. LLC in New York.
"We are elated to award the first CLEO EDGE Heritage Award to Vernon E. Jordan, Jr." said Cassandra Sneed Ogden, CEO of CLEO.  "We want our students to emulate such a person who has spent his life's work in defense of social justice and equality for all our nation's citizens.  His partnership in one of the nation's top law firms is also a worthy goal."
About receiving the CLEO EDGE Heritage Award, Jordan remarked: "One of my goals in life is to help young lawyers achieve their dreams as I was helped to achieve mine.  The mission of CLEO to increase the number of diverse lawyers in the legal profession is consistent with that goal.  This Lifetime Achievement Award honors not only me, but more importantly, all who have worked tirelessly to achieve diversity in the legal profession.  I am, therefore, greatly honored to receive this Award and even more honored to have it named after me. "
Jordan is a graduate of DePauw University and Howard University School of Law.  He is the author of Vernon Can Read! A Memoir and Make It Plain, Standing Up and Speaking Out.
About the Council on Legal Education Opportunity, Inc.
CLEO, Inc. is a 501(c)(3) charitable organization committed to diversifying the legal profession by expanding legal education opportunities for persons from traditionally under-represented racial and ethnic groups, low-income, and disadvantaged communities. Founded in 1968, when the number of lawyers of color was less than one percent, CLEO has produced more than 10,000 individuals who have excelled in every area of the legal profession and include judges, corporate attorneys, law school deans and professors, practitioners, politicians, and more.  2018 is CLEO's golden anniversary.  More information about CLEO's 50th Anniversary, Vernon E. Jordan, Jr., or how to purchase gala tickets can be found at https://cleoinc.org/50/
#     #     #