Educator and Other Professionals to Discuss Student Safe Return to School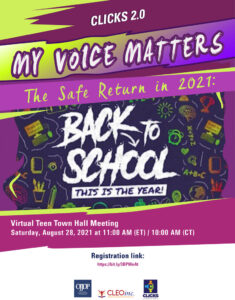 Alexandria, VA – August 24, 2021 – As more high school students prepare to return to school, educators are among those interested groups who must grapple with the question:  Can students go back to school safely with an ongoing pandemic and new Covid-19 cases on the rise?  This major topic will be aired among a US educator, healthcare professionals, a social worker, and students at the CLEO Legally Inspired College Kohorts of Students (CLICKS) Virtual Teen Town Hall Meeting on August 28, 2021.  National Education Association (NEA) Vice President Princess Moss will be part of a discussion focused on "The Safe Return in 2021: Back to School, This is the Year!" Joining her are Dr. Karla Paylor, a Maryland-Licensed Pediatrician; Dr. Kellie McCants-Price, a Maryland-Board Certified Child Psychologist; and Subramonianpillai Teal, a Maryland-Licensed Certified Social Worker-Clinical.
Princess Moss was elected Vice President of NEA in 2020 during the pandemic.  An elementary music school teacher from Virginia, Moss is a serious advocate for children and public education. She has spent her career championing diversity and inclusion, especially as it relates to children, parents, and schools.  Moss is "an outspoken, sought-after advocate on the topics of racial and social justice in education and the ways in which awareness, capacity-building, partnership and individual and collective outcomes
"The past 18 months have been difficult for all of us, but especially our young people. We must do everything within our power to help them get reacquainted with in-person learning.  It is imperative that this be done in a way students feel 'empowered' to speak their mind about returning to school, and doing so in the safest manner possible. This CLICKS Virtual Teen Town Hall Meeting, with experienced educators and health professionals, will help students realize the vital role they will need to play in establishing and maintaining a healthy and safe environment for the duration of the academic year. Allowing them to lend their voices to this critical dialog is of utmost importance and we're happy to provide this forum," said Leigh R. Allen, II, CLEO's Interim CEO.
NEA is the largest professional association in the US.  The Teen Town Hall Meeting will begin at 11:00am Eastern. For more information about the event, contact Manika Heilig at mheilig@cleoinc.org.
About CLICKS and the Council on Legal Education Opportunity, Inc.
CLICKS is a multi-state, law-related mentoring support program of CLEO that empowers at- risk youth through exposure to social justice issues, health, sports, law, and the legal profession. It is funded by a grant from the US Department of Justice (DOJ), Office of Justice Program (OJP), Office of Juvenile Justice & Delinquency Prevention (OJJDP). CLICKS partners are in Delaware, Illinois, Louisiana, Maryland,  New Jersey, North Carolina, Texas, and Washington, DC.
CLEO, Inc. is a 501(c)(3) charitable organization committed to diversifying the legal profession by expanding legal education opportunities for persons from traditionally under-represented racial and ethnic groups, low-income, and disadvantaged communities. Founded in 1968, when the number of lawyers of color was less than one percent, CLEO has since had more than 28,000 high school, college prelaw, and law students participate in its programs with more than 46 percent becoming members of the legal profession.  CLEO alumni have excelled in every area of the legal profession to include judges, corporate attorneys, law school deans and professors, practitioners, politicians, and more.  More information about CLEO and its programs can be found at https://cleoinc.org/.  For information about CLEO's 53rd Anniversary including the nomination form for the CLEO EDGE Honors Awards or to RSVP for the event, visit: https://cleoinc.org/edgeawards/
#   #   #