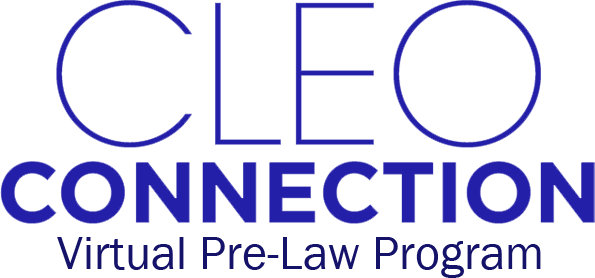 Co-Hosted by the law firm of
Goulston & Storrs
Thursday, Oct 13th 2022
Mock Law Class
Registration Opening Soon
Thursday, Nov 10th 2022
Financial Awareness
Registration Opening Soon
Thursday, Dec 8th 2022
Law School Admissions Panel
Registration Opening Soon
More 2021 dates to follow !
CLEO Partner Law Schools:
*Unless otherwise noted, all sessions will begin promptly at 6:00pm and last until approximately 7:30pm.
Be Part of the CLEO Connection !
The CLEO CONNECTION will help students make "real connections" to the road to law school.
Be part of our CLEO Connection Pre-Law Group! Let CLEO Connection answer your law school questions and better prepare you for YOUR law school journey.
Our goal for CLEO Connection is to engage under-represented pre-law students in lively, in person discussion with peers, law school faculty, and attorneys in order to enhance the student's social perspective on the admissions process and law school success.
The program provides a person-to-person environment where under-represented students can find answers to important questions about law school, create a local network of colleagues and legal professional guides, and develop their understanding of the legal field culture.
Check out our workshop schedule for the upcoming academic year and get registered today!
October – "Mock Law Class" – Come and get a "taste" of what a "day in the life" of a law student is like by sitting in on a mock law class taught by an actual law school professor.
November – "Financial Awareness" – We have to be honest…coming to this session makes a whole lot of "cents!" (And will potentially save you some dollars as well…) Come get tips from a financial aid expert regarding getting your "financial house" in order before embarking upon the law school journey.
December – "Law School Admissions" – Attendees will hear from actual law school deans of admission about the rigorous selection process, components of a "top-notch" application, how to choose the school that's right for you and more!
January – "LSAT Prep" – Newsflash: "With proper preparation, you too, can do well on the LSAT!" Come receive instruction from an industry expert who will be on hand to provide you with winning strategies and techniques.
February – "Law School 101" – Come get the "inside scoop" on what law school is really like and, more importantly, what it takes to be successful from those who are currently "walking the walk:" actual law students
March – "Attorney Panel" – There's no better way to learn about what it takes to succeed as a lawyer than to hear it directly from the mouths of practicing attorneys. If you're interested in interacting with experienced, proven practitioners of the law representing various sectors, then, by all means, attend this session!
If you're interested in interacting with experienced, proven practitioners of the law representing various sectors, attend this session!